How do you become a B Corp?
It was a first: Dutch company Royal Van Wijhe Verf was the world's very first B Corp in the chemical sector and can therefore call itself a company that operates transparently, ethically and sustainably. But how do you become a B Corp? And no less important: how do you retain that designation? CEO Marlies van Wijhe explains.
By Willemijn van Benthem | ChangeInc  | Article published in FD weeknr. 50 
For many years, Van Wijhe had been a foundation board member of Nudge, a foundation for sustainable initiatives set up by former CEO Jan van Betten of Germany's Reed Elsevier. Whilst in the car she received a call from Jan van Betten; "You should become a B Corp, that would suit you down to the ground." Van Wijhe had to laugh. "I haven't the slightest idea, Jan!" He explained. He had done the same with the foundation, and it all has to do with sustainability. It will be a daunting task, that he had to admit. You have to achieve a number of stipulated points, which will be measured throughout the organisation; this means not only on your product, but also on your HR policy, for example. Van Betten said to Van Wijhe: "That's just for the likes of you. You can do that effortlessly! If anything has an effect on Van Wijhe, it is to be challenged on something, especially if it has to do with sustainability. She requested information and decided to do the B Corp quick scan. "I became curious how far we would get," she says.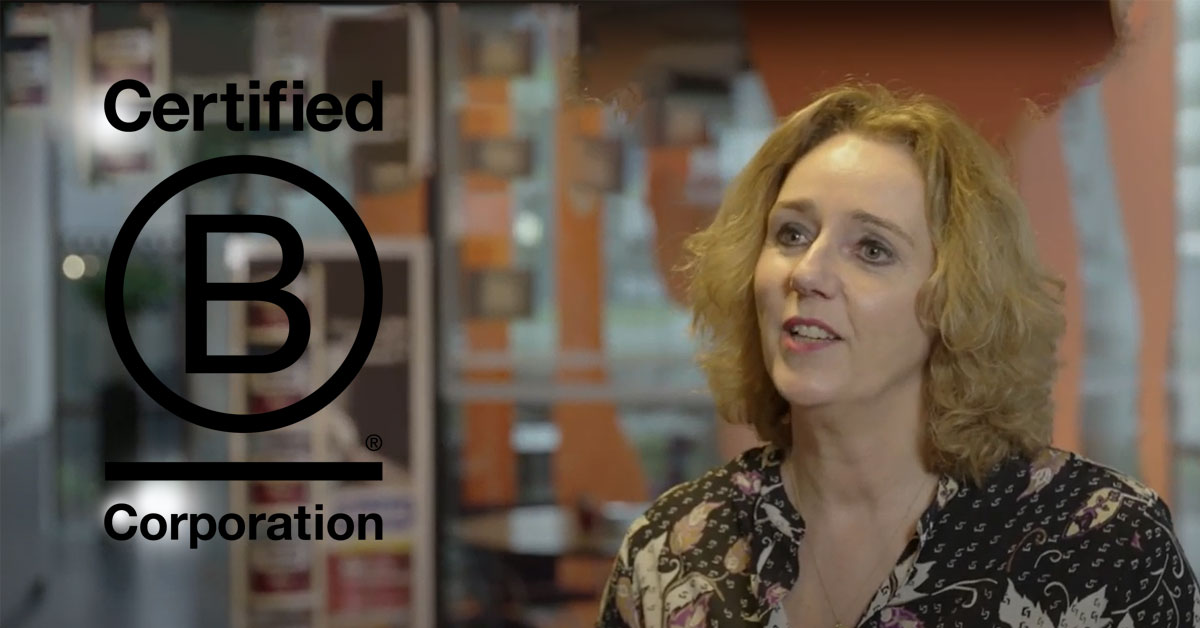 In 2016, Royal Van Wijhe Verf became the first chemical company worldwide to receive the title B Corp.
The preparation
B Corp is a title that companies worldwide are allowed to use, as long as non-profit parent organisation B Lab in America certified them. With the B Corp certification, a company can demonstrate that it operates sustainably in all aspects of its business operations. Van Wijhe: "I was familiar with the Dow Jones Sustainability Index, which includes the large corporates, but I was not aware of B Corp." With B Corp, the fourth generation managing director of family business Van Wijhe wanted to show with B Corp how sustainable her company is.

Within the company we were already working quite sustainably with smaller initiatives, for example by separating waste, re-using rinse water and using bicycle couriers.

Marlies van Wijhe – CEO Royal Van Wijhe Verf
She literally and figuratively rolled up her sleeves, and that was necessary too. It was not easy to get all the information down on paper. "Within the company we were already working quite sustainably with smaller initiatives, for example by separating waste, re-using rinse water and using bicycle couriers. And we established a Green Team. But how do we show exactly how much we are actually doing? You have to report it in a different way than you are used to and that was quite complex." During the process, Van Wijhe thought twice, I'm quitting. But fortunately, she was offered help. "A consultancy firm that worked with B Lab at the time pulled us through. At that time, we weren't ready yet, but it had steered our way through our lowest point."
The Assessment
Once all the questions have been answered and the necessary information has been written down, you can apply as a candidate and, if you score at least eighty points, you can participate in the assessment. Van Wijhe can still remember it like it was yesterday. "From all the information you submitted, B Lab takes samples to measure how you are doing. Then you get to demonstrate, point by point, whether what has been written down, is correct." It was exciting and difficult, and above all a lot of work. But she kept faith. "Royal Van Wijhe Verf has been around for 105 years and has always worked sustainably as a family business, because we are thinking of the long term for the next generations." Not only that, but the company has also made great strides under Van Wijhe's leadership by, for example, making the paint buckets from recycled plastic, for the connoisseurs: Post Consumer Recyclate (PCR). Fortunately, all the efforts were not in vain: in 2016, Royal Van Wijhe Verf became worldwide the first chemical company (because that's what a paint manufacturer is) to be awarded the title of B Corp.
The Nomination
Van Wijhe was pleased, but also realised that at the time, hardly anyone knew what a B Corp meant. That is the disadvantage of being a frontrunner in something. Hence a new challenge. "It's up to us to make this known to the world. But getting the internal world on board was another step.
What should we do with it? We are busy enough as it is.
The majority of her MT did not think it was important. Van Wijhe still has to laugh about it. They said, "What should we do with it? We are busy enough as it is." She herself was proud of it, because it gave the confirmation that the company was on the right track. "For ten years you can say that we work sustainably, but knowing for sure that it is actually true, is very nice." So she persevered, even though not widely supported. "That's the pleasant thing about having your own company. Then you can still make decisions if you believe in them." Fortunately, because she is not alone in this. Van Wijhe is now in good B Corp company with companies such as Dopper, Tony's Chocolonely, Triodos, Patagonia, WeTransfer and Auping.
Retaining
Once the certificate has been obtained, it is not that you can sit back and relax. "We have to work hard, time and time again, to retain the certificate," says Van Wijhe. "And after three years, you have to apply for a new certification, the criteria for which become stricter and stricter." In the meantime, Van Wijhe does have a group of employees who enthusiastically work hard to retain the title. With success. "We were allowed to call ourselves B Corp again in 2018 and we had worked hard for that again."  This time, she got an additional assignment: she had to amend the Articles of Association, a prerequisite for the renewal.
We hope to succeed again. It has now been embraced within the company.
B Lab wants B Corps to lay down the social interest in the Articles of Association, which means that the interests of shareholders do not take precedence over those of other stakeholders. Van Wijhe did not want to do that. Articles of Association belong to her family; nobody can touch them. "In the end, I even skyped with the American founder of B Lab, Bart Houlahan, who explained why it was so important to include sustainability in the Articles of Association. After an hour I was convinced. When the family also agreed, I went to the solicitor. Van Wijhe was once again allowed to call itself B Corp. And at the time of authoring this article, the company is once again taking steps to retain the designation. Van Wijhe: "We hope to succeed again. It has now been embraced within the company." What is in any case a big gain according to Van Wijhe: "B Corp does not prescribe what you should do but based on the outcome it shows where you can make improvements. Whether they are long term changes or quick wins, you know how you can set sustainable change in motion for your company." She smiles. "That is exactly what I like about it. You do it for yourself. It helps you to get better and better and be more aware of what you're doing." Now let's see when other large corporates can call themselves B Corp.